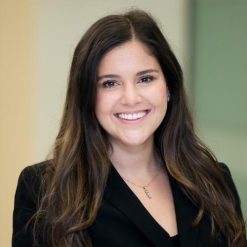 Alexis L. Holiday
Associate
Alexis L. Holiday joined Turnbull, Nicholson & Sanders, P.A. as an Associate Attorney in January 2020, focusing her practice on family law matters. Alexis received her undergraduate degree from Towson University, magna cum laude and with other honors, in Sociology and Anthropology and a minor in Chemistry.
Alexis graduated from the University of Baltimore School of Law, cum laude, in 2019, and was a member of the Royal Graham Shannonhouse III Honor Society. While in law school, Alexis was a Rule 19 Attorney in the Bronfein Family Law Clinic, served as a Production Editor for the University of Baltimore Law Review and served on the Honor Board. 
After law school, Alexis served as a Judicial Law Clerk for the Honorable Dennis M. Robinson, Jr. in the Circuit Court for Baltimore County.  Alexis gained valuable experience during her clerkship with matters involving marital property, custody and guardianship proceedings. 
She was admitted to the Maryland Bar in December 2019.
Alexis successfully completed the 40 Hour Civil Mediation Training (March 2018) required to qualify her as a mediator for general civil litigation cases. 
Alexis attended the American Academy of Matrimonial Lawyers Institute's Advanced Program in Chicago, Illinois (June 2022). The Institute is the premier continuing education opportunity for family law associates nationwide. AAML fellows from all over the United States presented programs related to military and federal retirement issues and tax issues during divorce, expert depositions and practical guidance for building business. Alexis also participated in an in-depth business valuation case study which provided valuable insight to her clients. 
Alexis attended the American Academy of Matrimonial Lawyers' Negotiation Seminar in Boston, Massachusetts (May 2023). The Seminar, taught by Harvard Law School fellow Bob Bordone, focuses on the collaborative process in parties reaching settlement, why negotiations fail, strategies for expanding negotiating skills, and techniques for dealing with difficult personalities in conflict situations. 
Alexis is a member of the Baltimore County Bar Association and the Maryland State Bar Association. Alexis serves as the Circuit Representative for Baltimore County of the Young Lawyers' Section Council for the Maryland State Bar Association. 
She is a native of New Jersey and permanently relocated to Maryland after college. In her free time, Alexis enjoys playing outside with her dog, Murphy, renovating her home, and cooking.
Email: AHoliday@TNSFamilyLaw.com